Sleeping, chilling, watching your favorite shows, listening to music; who wouldn't want to live the life of Rilakkuma? Now you can with the Rilakkuma onesie! Staying warm and cozy will be a blast while doing all your favorite things in and out of the house!
Fabric: Fleece [Polyester 100%]
Large or Small, We've Got a Onesie For You
Our regular onesies will be a good fit if you're at least 5 feet tall. If you're around 6 feet tall -- give our take a few inches -- you may find our XL size to be more comfortable.
Onesie will fit differently on different people, but they look flattering on everybody -- we promise.
Adult Onesie Measurement Details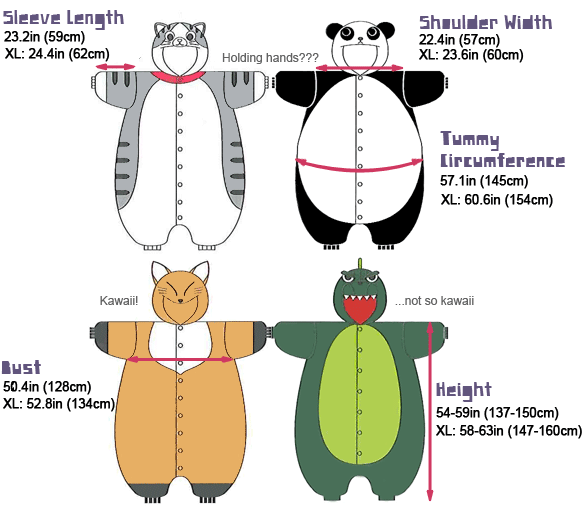 Kids Onesie Measurement Details
Our Kids Onesie come in one size - 51 in (130cm) which is generally suited for 5 to 9 year olds. This measurement is taken from the top of the hood to the ankle cuff.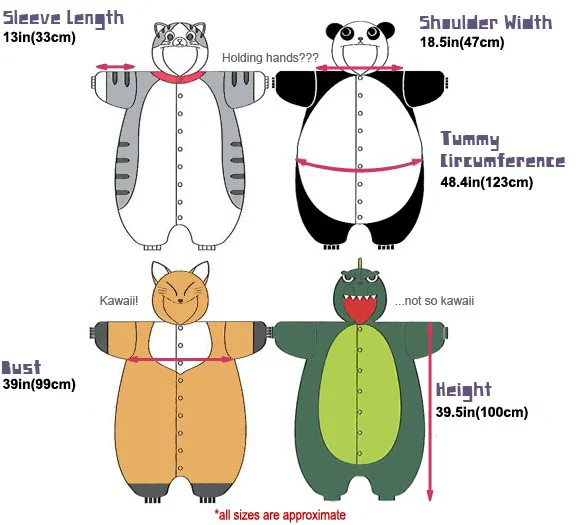 Fabric
Our onesie are made out of high-quality, soft, polyester fleece. The fabric will keep you warm and cozy, and the fun of wearing your favorite animal will give you energy.
The wrist and ankle cuffs on all of our onesie are elasticized.
Pockets
Animal onesie (Such as the Tabby Cat, Dinosaur, Fox, etc.) come with side pockets along the side of the onesie. But Character onesie (Such as the Hello Kitty, Gloomy Bear, Rilakkuma, etc.) DO NOT come with side pockets, unless noted in the product description.
Machine Washable
All of our onesie are machine washable and can stand repeated cleanings without losing their shape.